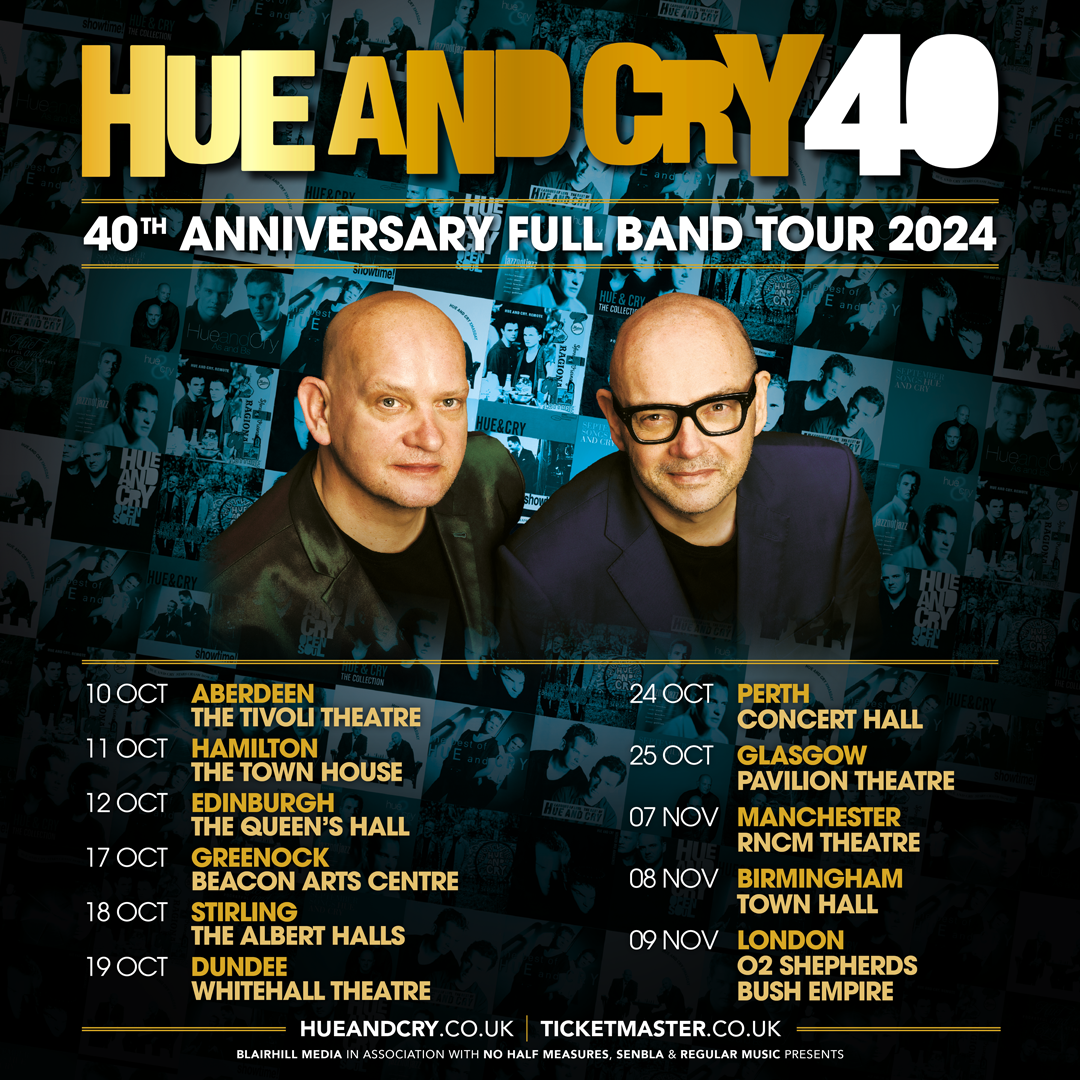 Hue And Cry will be embark on a special 40th Anniversary Tour across Scotland and England in autumn 2024 along with their phenomenal full band to commemorate their outstanding four-decade legacy.

Brothers Patrick and Gregory Kane are set to take fans on a nostalgic journey through their illustrious career, delivering unforgettable performances filled with hits such as 'Looking For Linda', 'Ordinary Angel', 'Violently', 'I Refuse'. 'Labour of Love' and many more.

As part of the 40th anniversary celebrations, throughout 2024 Hue and Cry will be continually releasing a carefully curated selection of rare material from their personal archive along with accompanying memorabilia and commentary.

Tickets will go on general sale from 10am BST on Friday 27th October 2023 via Ticketmaster and venue box offices HERE.
10 OCTOBER | ABERDEEN, THE TIVOLI THEATRE (SCT)
FULL BAND – Tickets on sale 27th October '23 at 10am
11 OCTOBER | HAMILTON, THE TOWN HOUSE (SCT)
FULL BAND – Tickets on sale 27th October '23 at 10am
12 OCTOBER | EDINBURGH, THE QUEEN'S HALL (SCT)
FULL BAND – Tickets on sale 27th October '23 at 10am
17 OCTOBER | GREENOCK, BEACON ARTS CENTRE (SCT)
FULL BAND – Tickets on sale 27th October '23 at 10am
18 OCTOBER | STIRLING, THE ALBERT HALLS (SCT)
FULL BAND – Tickets on sale 27th October '23 at 10am
19 OCTOBER | DUNDEE, WHITEHALL THEATRE (SCT)
FULL BAND – Tickets on sale 27th October '23 at 10am
24 OCTOBER | PERTH, CONCERT HALL (SCT)
FULL BAND – Tickets on sale 27th October '23 at 10am
25 OCTOBER | GLASGOW, PAVILION THEATRE (SCT)
FULL BAND – Tickets on sale 27th October '23 at 10am
07 OCTOBER | MANCHESTER, RNCM THEATRE (ENG)
FULL BAND – Tickets on sale 27th October '23 at 10am
08 OCTOBER | BIRMINGHAM, TOWN HOUSE (ENG)
FULL BAND – Tickets on sale 27th October '23 at 10am
09 OCTOBER | LONDON, O2 SHEPHERDS BUSH EMPIRE (ENG)
FULL BAND – Tickets on sale 27th October '23 at 10am